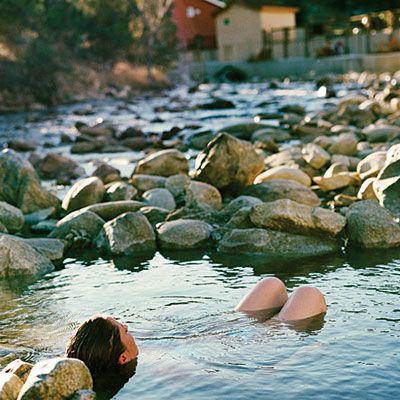 If you've basked in the heated luxury of natural mineral pools, hot springs or vapor caves, you know there is something almost magical about the mineral-rich waters which seem to soak into your very heart and soul and heal their way through to your tense muscles and body. Healing minerals are Nature's Advil and basking in them is like getting a massage and a good night's sleep in one.
Imagine coupling healing waters with relaxing, gentle and soothing yoga stretches. I'm not talking about putting your foot behind your ear, I'm talking about tuning into the vibration of the earth and the water and letting gravity be your friend as you unwind your sticky muscles and say hello to a freedom in your body that you once knew. Treat yourself. Indulge in the waters. Be inspired with a transformational yoga practice. Healing waters can be a catalyst for your renewed commitment to gently restore your physical options so please consider joining other yoga lovers for an inspiring, relaxing yoga retreat.
Join us—Jeff Baily, co-owner of Yoga Loft in Boulder, CO and special guest Gene Langlois on Friday, May 22nd, 2015 through Monday, May 25th, 2015 for a weekend of relaxation, healing and rejuvenation at Mt. Princeton Resort and Hot Springs. Relax in the natural surroundings and serenity of the resort and spa and rejuvenate your mind, body and soul through daily yoga asana and mindful meditation practice.
The beauty and rustic elegance of Mount Princeton Hot Springs unheralded as it perches in the midst of the Collegiate Peaks—a name given to a section of the Sawatch Range of the Colorado Rocky Mountains with five mountains majestically shooting 14,000 ft. into the sky.
Register at lifeforceproject.com or call Jeff for details at 303-579-9882.