What is Kaiut Yoga?
Francisco Kaiut is the founder of the Kaiut Yoga Studio in Curitiba, Brazil. Kaiut Yoga merges Francisco's insight and experiences from practicing hatha yoga, Tibetan Buddhism, polarity therapy, cranial sacral and chiropractic work to create what he calls ''Yoga for Everybody". Kaiut Yoga combines stabilizing and strengthening movements that work towards preserving the body. Poses are practiced as synergistic, sustained sequences with the goal of impacting all body systems.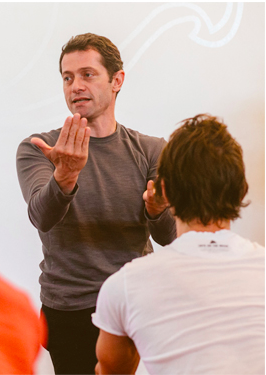 Meet Francisco Kaiut
Francisco was accidentally shot in the left hip when he was a child; an unfortunate tragedy which left him knowing what it was like to live with pain. His studies of Eastern and Western philosophies, medicines and yoga practices led him to create Kaiut Yoga as a blend of all that he had learned about healing modalities from around the world.
Francisco, also a chiropractor, developed Kaiut Yoga as a way to help patients with chronic pain and severe imbalances, and those who experience hip issues as a result of too much time spent in chairs which further limited hip mobility. He specializes in addressing complex injuries and chronic pain and it's his belief that yoga is best-served by individual attention in order to be practiced without injury.
Kaiut Yoga emphasizes long pose holds with a lot of pressure, at a variety of angles, to arouse the body central which stimulates circulation, increases mobility, eases pain and provides added relief and mobility to the hip area, further decreasing pain in the lower back, knees, ankles, shoulders and neck.
Join Francisco and Yoga Loft
Working with his extensive background and innate sense of the body, Francisco teaches with a heightened awareness for the subtle adjustments required by each student. He works not simply on a student`s physical body but also on his or her mental state and the energy around them. Polarity therapy, the theory that "energy blockages" are a culprits in pain and depression and play a important part in his teachings as do meditation and an awareness of an environment`s energy.
Looking for Kaiut yoga Boulder? We would love to have you join us at Yoga Loft! Learn more about Kaiut Yoga at www.KaiutYoga.com.