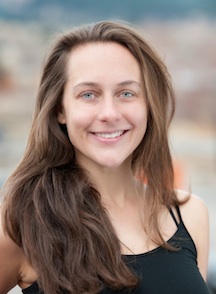 What do you do in your spare time?
Dance, Music, Art, Hiking, Bird Watching
If you could have dinner with anyone, who would it be and why?
Gautama- To soak in the glow of his enlightenment teachings
How do your students inspire you?
My students continually inspire me with their receptive openness and transforming practices.
Why do you practice yoga?
I practice as an ever-evolving inquiry into the ultimate nature of things, aka bliss.
What do you love most about teaching yoga?
I enjoy most the opportunity to share my experience as offered to me by my beloved teachers.
Where were you born?
Colorado—born and raised
Some interesting facts about you that people might not expect?
I play the piano, I am an avid animal and nature lover, I draw and write poetry.
Recent travels? Farthest place you've traveled?
Recently—South of France, Mirabelet Blacons to study with the revered Iyengar teacher Faeq Biria. The farthest I have traveled—India, Maharashtra.
Any other question or comments you would like to share:
"If there's no music in heaven, then what's it for?" –Arcade Fire