Yoga Teacher Training Boulder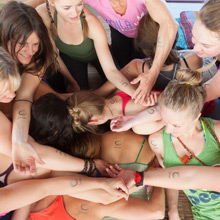 Yoga Loft offers the finest in yoga instruction and is staffed by qualified, Yoga Alliance approved instructors.
Yoga Loft offers both 200-Hour Yoga Teacher Certification and 300-Hour Yoga Teacher Certification.
The graduate of the 200-Hour program will be able to successfully teach an informed all-levels yoga class. In addition to learning the basics of yoga anatomy, physiology, alignment, and safe practice, we foster a learning environment that encourages each student to discover their own inner teacher. As a student, you are encouraged to look within and develop your own teaching style and practice. What inspires you? What life experiences and personal interests do your bring to your practice? You will graduate with a new understanding and appreciation for  yoga – both as a student and as a teacher. We use group dynamics to draw out knowledge, personality, and life experiences, to deepen the purpose of yoga in your life. We all become students as the classroom of life becomes our teacher! To help us get to the core of the life-changing inner power of yoga, we take a deep dive into yoga philosophy, primarily through the Yoga Sutras and Bhagavad Gita.
The 300 Hour program is a deepening process for teachers and students alike who want to expand their knowledge and add new tools to their practice. Combined with the 200-Hour program, the graduate of this program will be qualified for the Yoga Alliance 500-Hour Yoga Teacher Certification. While the primary style we teach is Vinyasa flow, the way we create meaning in our practice and deepen as a teacher is always unique. This is how we grow. The 300 Hour program has more electives and takes a much deeper dive into the nuances that make your instruction inspirational and unique. This discovery is our higher yoga! Let's find out what puts you at the top of your game. In addition to conveying the important details of yoga, the overarching goal is to discover the key to making yoga work for you! It is from this deeper awareness that sharing becomes natural and totally fulfilling.
Come Grow With Us! The specific goal to teach is not required. Immerse yourself in this training for you own personal growth! The dates are arranged to make it easy to integrate into your life.